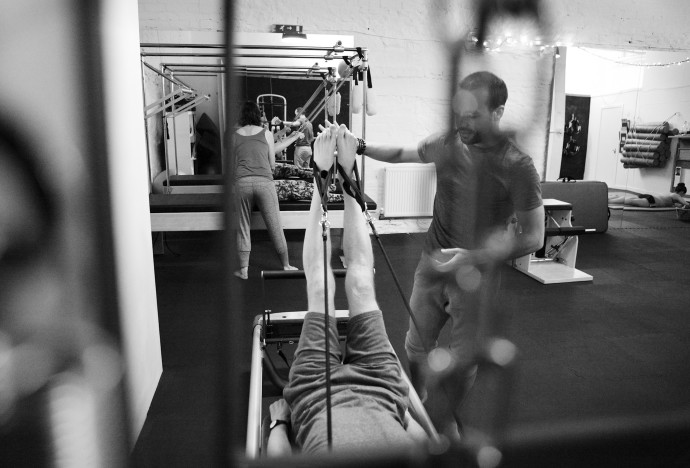 The Pilates Hub is a spacious warehouse studio based in a historic private building at Edinburgh's buzzing Leith shore area. It is run by experienced teacher, former journalist, trained dancer and wannabe athlete Ellie Carr and has grown from a lifelong study of human movement at its most superhuman and its most dysfunctional. We are a community of Pilates professionals, Hub associates, student teachers, and most importantly, our inspirational clients (if there was a cool word like 'Yogi' we'd use it here but 'Pilatisto' doesn't cut it).
We don't like to boast (well maybe a little) but we are proud that our teachers train for years, not months or weekends: that they know their hip bones from their thigh bones; diaphragms from derrieres. We are certified with Europe's leading training bodies in mat and equipment Pilates with backgrounds in competitive running, cycling, triathlon, professional dance, chronic pain and medicine (radiography to be precise, our Lorna is the only Pilates teacher with genuine x-ray eyes.)
What we offer
If your spine is stiff at 30 you are old; if it is flexible at 60, you are young." – Joseph Pilates 
Down at the Pilates playground we have many ways for you to jump in and get your fix (believe us, Pilates is addictive). Group mat classes are best known in the UK. But in the States they're all about equipment like the Reformer, Cadillac and Chair. We like to mix it up with MAT classes for all levels in two venues, THE PILATES HUB at Leith's Shore and the city-centre BALMORAL HOTEL. Our main studio THE PILATES HUB is one of the few places in Edinburgh where you can also train with the spring-loaded resistance, challenge and assistance of Pilates equipment originally designed by Joseph Pilates. We offer specialised MAT & EQUIPMENT sessions with our HUB open STUDIO classes (up to 3 people), 1:1 private lessons and 'Buddy' sessions.
Our philosophy
FIRST MOVE WELL, THEN MOVE OFTEN
No matter how fancy it seems (and there are some pretty fancy moves), that's pretty much all there is. 'Move well, then move often'. Words by functional movement guru Gray Cook but they could just as easily have been spoken by Joseph Pilates. We use Joe's blueprint (and those who carried on his legacy), as channelled by contemporary training organisation Body Control Pilates. We doff our cap every lesson to Uncle Joe, his exercises, his principles, his machines. But we continue our quest to better understand human movement: how to unpick restrictions, posture, pain; how to unlock people's full sports or dance potential by studying biomechanics, working with Pilates and movement experts from all fields – but most of all by observing the changes we see in our client's bodies every day.
We work closely with competitive athletes, sportspersons, performers, pre and post-natal, those recovering from injury, specific health conditions. We teach fun, challenging and restorative classes to men, women, parents, desk sitters, outdoorsy types, the list goes on. We believe everyone can learn to move and function better and have a good time getting there (and we're not gonna lie, if there's a bit of muscle definition on offer we're not going to pass). We believe moving well and often is key to physical and mental health and letting the good time roll.
WHO IS THIS JOE GUY ANYWAY?